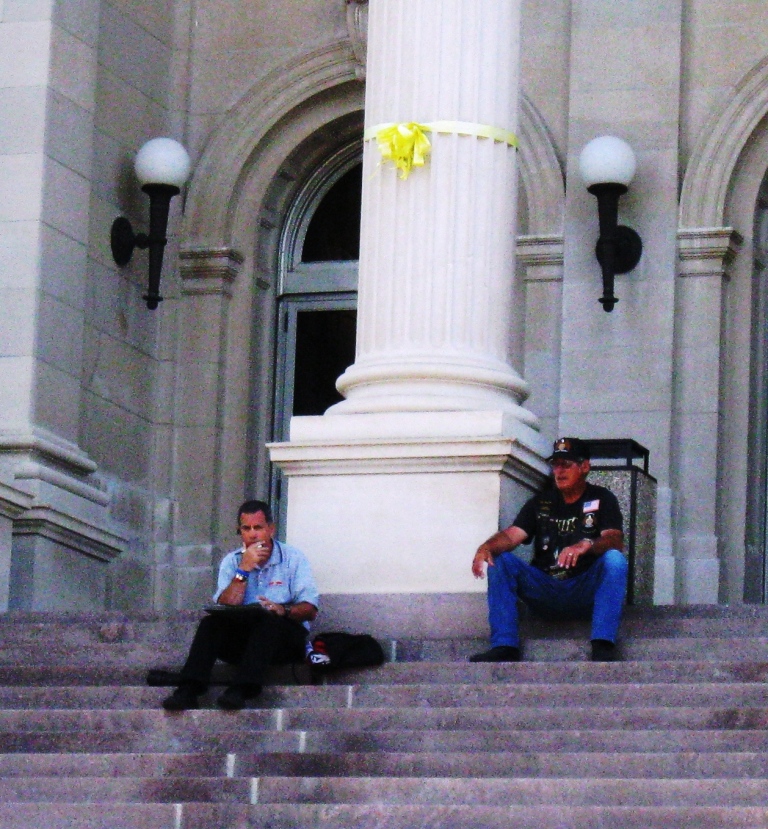 Heide and I met George Lutz in front of the South Dakota State Capital in Pierre on July 28, 2010. George was taking a break and planning his next event.
As a matter of fact, we stayed in the same motel and spoke with him that morning at breakfast. God bless you George.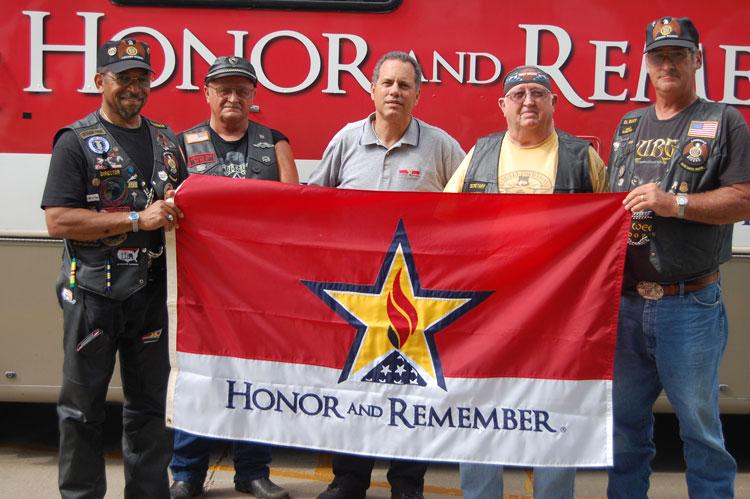 Emily Wickstrom | Capital Journal
Dennis Edwards, Ed Kruse and Dick Frantsvog, of Rapid City, John Fleming, of Sturgis, and George Lutz, founder of Honor and Remember, stand in front of the flag Lutz made after his son was killed in Iraq.


Military honor tour makes SD stop
By Emily Wickstrom
emily.wickstrom@capjournal.com
Published/Last Modified on Wednesday, Jul 28, 2010 - 12:44:55 am CDT
PIERRE — After George Lutz's son, George Lutz II, was killed by a sniper bullet while on patrol in Fallujah, Iraq, Lutz started visiting with families that had lost loved ones.

After finding there was not a symbol that recognized the men and women of the United States armed forces, he completed the Honor and Remember Flag.

On Tuesday, Lutz was met in Pierre by four members of the American Legion Riders Post 22 of Rapid City, including Dennis Edwards, Ed Kruse and Dick Frantsvog, of Rapid City, and John Fleming, of Sturgis.
Lutz is the founder and executive director of Honor and Remember Inc., of Chesapeake , Va.

Fleming, senior assistant director of American Legion Riders, said the four decided to escort Lutz after their road captain, Matt Oniel, found the information on the Honor and Remember website about what Lutz was doing. Lutz will be escorted to Rapid City and Mount Rushmore by the members.

"As a Vietnam vet, it is an honor and very cleansing for me to show respect to those people that gave their life for me," said Edwards, who is on a tour across the United States talking to elected leaders about how South Dakota can help the Honor and Remember vision.

"I felt like I needed to be in front of these legislators and governors. It was my message, so I thought the best person to hear it from would be me," Lutz said.

South Dakota is the 27th state Lutz has visited and he has traveled more than 9,000 miles. Lutz started at Dover Air force Base in Delaware on June 7.

"I started at Dover Air Force base because that is where fallen soldiers first come home," Lutz said. After he completes his journey on Nov. 11, Veteran's Day, at the Arlington National Cemetery , Lutz said he will have traveled more than 25,000 miles.

Lutz said he and his son, Kenny, 26, designed the honor flag. It's red with a yellow star outlined in blue and a flame on the inside of the star. The words "Honor and Remember" are across a white bar.

The flag is intended to be flown below the United States of America flag.

"We researched symbolism that the military used. Each detail of the flag symbolizes an important part of the overall meaning of the flag's message," Lutz said.

Lutz said the red field represents the blood spilled by brave men and women throughout history of America 's military. The white field below the gold star recognizes the purity of sacrifice. The blue star represents active service in military conflict and originated with World War I. The gold star signifies the ultimate sacrifice of a warrior in active service who will not return home.

The folded flag signifies the final tribute to an individual life presented to the family for their significant loss. The flame is an eternal reminder of the spirit that has departed this life yet burns on in the memory of all who knew and loved the fallen hero.

Lutz said he is visiting each capital city as well as other cities that are easy to veer off to, although he doesn't spend the same amount of time in each city.

Some towns he spends three to four days and other towns he spends as little as one day.

"Every state is unique, incredibly different and beautiful. I've met with so many great people and wonderful families that have lost love ones," Lutz said.

Lutz said he plans to present 100 flags to gold star families.

---