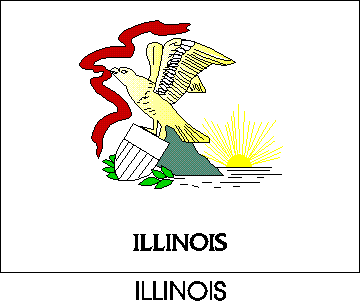 US 50 -- Illinois
Copyright 2002 W. Berg Press
---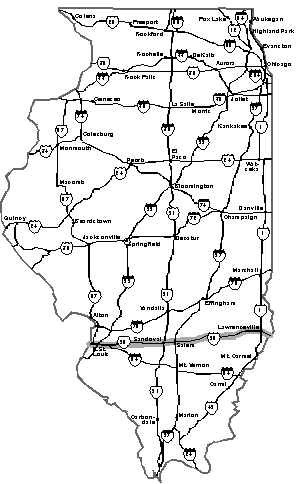 Welcome to Illinois—The Land of Lincoln
The capital is Springfield.
State motto is: State Sovereignty, National Union.
Nine miles into Illinois on US 50 we find Red Hills State Park, a large, beautiful park with camp sites and picnic places scattered throughout. The park is heavily wooded and on a lake where I see a lot of fishermen trying their luck. The trees are green and it is warm enough for a picnic. We select a quiet site for lunch. Later, we take a short walk through the woods to the lake. Then it is time to pack up again and continue our journey.

Olney, Illinois, claims that one can see white squirrels in their city park. These pink-eyed, bushy tailed creatures have been members of the community for a long time.

In Odin, Illinois, on US 50 we find the Lincoln Trail Antique Shop. If you are looking for antiques, vintage wedding invitations, old lamps or just that special item, you will find it here.

Now stop and chat with Sandra Soper. She is a friendly, delightful person and can tell you all about antiques. My wife is so gracious and agrees to the purchase of a two-foot wrought iron candle holder for our wall at home.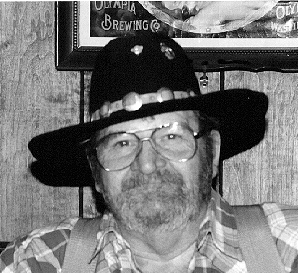 At the antique shop, we meet Lou Campbell. He is a character out of the West. I don't know if I can believe him, but he claims that he runs antiques from Illinois to Virginia. If you have seen him, please let us know.
Ten miles east of Salem we pass through a little town named Iuka. The pictures "Halfway Tavern" claims that Abe Lincoln stopped here as many other travels did.
In early 1800s stagecoach passengers reached in Salem, Illinois, "Gateway of Little Egypt" the half-way point between St. Louis and Vincennes. Oil was discovered in 1930s and transformed this small town. Today it is a prosperous city with a rich heritage. You may want to visit the Lemen-Frakes House at 321 South Franklin Ave. Built in 1842, it is the oldest home in Salem.
Carlyle Lake is Illinois' largest lake. We stop to see if space is available to stay overnight. Camping facilities at the West Dam are better than other facilities around the lake. Sorry to say, West Dam is occupied, so we decide to continue down US 50. We forgot that today is Saturday. Most campgrounds are occupied on weekends, but are vacant during the week.
We stop in Breese at the Knotty Pine Inn. It is very clean and the price is very reasonable. The Knotty Pine also operates a restaurant which is patronized by local townspeople. We can confirm the food tastes good, prices are very reasonable and the place is clean. Their motto is to serve excellent food.
The next town is Aviston. The Aviston Elementary School has a very impressive homepage. Mr. Jason Rakers is a teacher and has put together information on the History of Aviston that dates back to 1812.
We follow the old US 50 towards St. Louis. As we enter East St. Louis, we see the Gateway Arch in the distance. It is called the 'Gateway to the West.' Many people here consider that once you have crossed the Mississippi, you are in the West—even if this is not the area of the Continental Divide or the half-way mark of the United States.
From the distance we admire the engineering wonder that rises 630 feet into the air. The Arch is higher than the skyscrapers of St. Louis. We bypass St. Louis on our north and now come to the point where US 50 crosses the Mississippi River into Missouri.
---