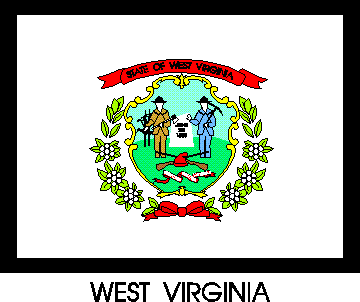 US 50 -- West Virginia
Copyright 2010 W. Berg Press
---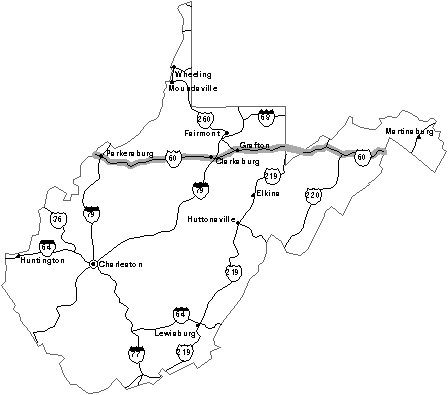 Welcome to West Virginia -
The capital is Charleston.
State motto is: Mountaineers are Always Free.
Once we enter West Virginia, US 50 winds and climbs through mountain ranges. Many signs along the road show recommended speed limits of 30 mph and 40 mph. Some mountain tops reach over 1,000 feet. Bear Mountain is 1,057 feet. From here it goes down to Capon Bridge village where we cross the Cacapon River. Then the road goes back up to 1,265 feet and down again, and up again to 1,607 feet.



Romney, West Virginia, claims to be the oldest town in the state. The 'Potomac Eagle' excursion train departs from here. A ride along the South Branch of the Potomac River gives easy access to view birds of prey, including osprey and eagles.

At Gormania we cross back into Maryland for a short time. We must climb to the highest elevation of the road system for the state of Maryland. Backbone Mountain is 3,090 feet high.

Preston County is named after the thirteenth governor from Virginia. As we drive along these mountain roads, we get a feeling that we are still in the Civil War times. We would not be surprised to see Confederate soldiers on their way back to the South.

Before we reach Aurora, we pass by Cathedral State Park. Majestic stands of hemlock and hardwood give a cathedral feeling and show how it was before modern men came to the mountain. Hiking trails wind through this forest of ancient trees that measure ten feet and more in diameter.

We stop at Cool Spring Park and admire the old farming tractors that are on display. There are some old steam engines used in early farming.

Next, we climb up Laurel Mountain, 2,602 feet elevation, and then down again. We notice that most towns are unincorporated townships. The road is rough. We average about 20 miles an hour. This is quite different from the five-lane US 50 that approached the District of Columbia.

Grafton became a major throughway during the Civil War when the railroad established a foothold in this town. Near Grafton is Tygart Lake State Park. It has a lodge with 20 rooms. The rooms are very large and built magnificently. They have 12-foot high ceilings with wooden interior walls and ceilings. The restaurant overlooks the lake and serves superb meals at very reasonable prices.

South of Tygart Lake State Park you find the oldest and longest covered bridge. If you visit only one covered bridge, see Barbour County's Philippi Bridge on US 119/250. It is the only structure of its kind that is still part of the federal highway system. In 1861, Union and Confederate Soldiers fought the first land battle of the Civil War over this bridge.

Grafton is an old city with a colorful history that prospered when the railroad came to town in 1856. The Baltimore and Ohio (B&O) was the major employer for this area.



The Andrews Methodist Episcopal Church is the International Mother's Day Shrine. Anna Jarvis brought distinction to Grafton when she organized the first Mother's Day Celebration on May 10, 1908, at this church. The Anna Jarvis Birthplace Museum is located Route 119 south of Webster.

Bridgeport is located at the junction of US 50 and Interstate 79 and has been a trading post since 1764. Today it is a favorite stop where you can find hotels, a shopping mall with 100 stores, and fast food varieties of your choice. There are more than forty restaurants and eateries. From Bridgeport US 50 West is a four-lane divided highway.

In 1785 Clarksburg was added to the map, named after George Rogers Clark, a Revolutionary War general, who fought the British and Indians in the Northwest Territory. In 1803, his younger brother William became a leader of the Lewis and Clark Expedition. Clarksburg is also the birthplace of General Thomas "Stonewall" Jackson. Many immigrant laborers came here after the Civil War. A heroic sculpture has been erected near the court house that represents Belgian, Czech, Greek, Hungarian, Irish, Italian, Romanian and Spanish immigrants. Europeans flocked to the region in the 1880s in search of the American dream.

We drive to the North Bend State Park in Cairo, West Virginia. Having been so impressed with last night's accommodations at the Tygart Lake Park, we decide to stay another night at a West Virginia state park. Instead of sleeping at the lodge, we try out the campground and sleep in our van for the first time. Our site was approximately 50 feet off the North Fork of the Hughes River.

North Bend State Park offers many recreational facilities. A modern lodge with guest rooms and restaurant is also available. While dining, one can view the surrounding mountains and visiting wildlife. Near the park is the North Bend Rail Trail. Still under development, the trail affords hiking and biking opportunities. It stretches for 61 miles from Wolf Summit to Walker in Wood County. This scenic abandoned spur of the CSX railroad passes by several quaint towns, through 12 tunnels and over 32 bridges.

From North Bend we drive to Cairo. Cairo is a small hillside village way off the track. The US Post Office in Cairo was established in the year 1856. It is still in the same building today. I shop at Rowley's General Store for breakfast. A scenic drive, that is well worth taking, eventually gets us back to US 50.



In Parkersburg, visitors have the opportunity to board an authentic sternwheeler at Point Park for travel to Blennerhassett Island. This tranquil, tree-covered island in the Ohio River is the place where Blennerhassett and Aaron Burr allegedly conspired to establish a new empire in the Southwest. Crossing the Ohio River brings us to Ohio.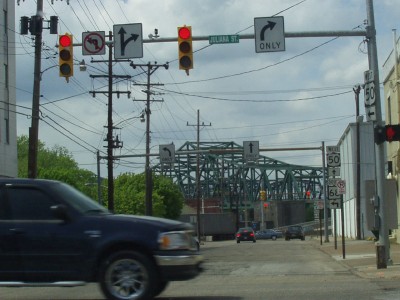 US 50 crossing Ohio from Downtown Parkersburg
Chris Conner
---